With no duty to be had and the kinks from yesterday all worked out, the morning ran much smoother.
We started our day with this meme:
Before I showed them the wordle from their first day feelings exit tickets:
I was pleased many of them wrote in complete sentences. My favorite may have been the child that just wrote "I'm satisfied." I still have a few that are nervous, but that's to be expected.
We went over more classroom procedures, did our number talk (which lead to some awesome discourse about making sense of problems!), made our class norms with a gallery walk, and did another read aloud: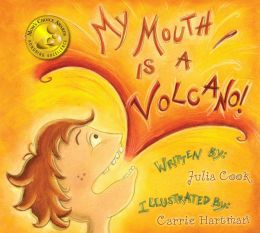 This mentor text focuses on life skills and provides strategies on not erupting (interrupting). Again, most of them had never heard this book so I'm on a roll!
Can't wait to read this gem on day 3!
I did make my first student cry. Yes, we made it through a day and a half of fifth grade before there were tears.
He had his phone out and in his words, was just looking at the time. Since his back was to the wall, I chose to believe him. We had a conversation in the hallway because it's not a conversation for the whole class. He apologized, we talked through strategies (look at the clock, keep phone in backpack), and I moved him seats so he would face the clock. I gave him his phone back at the end of the day, but there were still tears.
I guess the honeymoon is over?
Day three is a weird day. We'll tackle second prep and our first assembly. Fingers crossed!