With the school year winding down (and testing being over!), my students had some time to collaboratively enjoy reading stations based on the novels they read with me in small groups.

These stations are now available here on my TpT store!

New centers include:

A chronological order sort for The Son of Neptune with an included answer key.


Including answer keys was one of the things I revised this year after seeing what a difference it made with my own small groups. Instead of being interrupted to referee on events, I would simply hand them the answer key when they were done so they could check themselves. Some groups could handle having the answer key at the beginning of station time, but some needed time to try the center without being tempted to look at the answers right away.
The second center is for Camp Half-Blood and Camp Jupiter.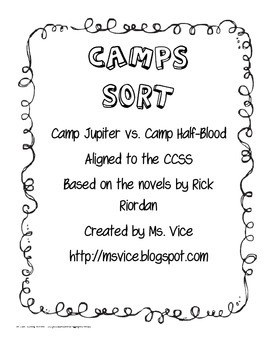 Students will separate out characters and descriptions to fit the appropriate magical camp. My students loved doing this center and even though they'd read different novels (some read the Lightning Thief while some read the Lost Hero), they could still work on the center together!
Additional centers will be posted over the summer, I just need to move first!